THANK YOU FOR YOUR PATRONAGE!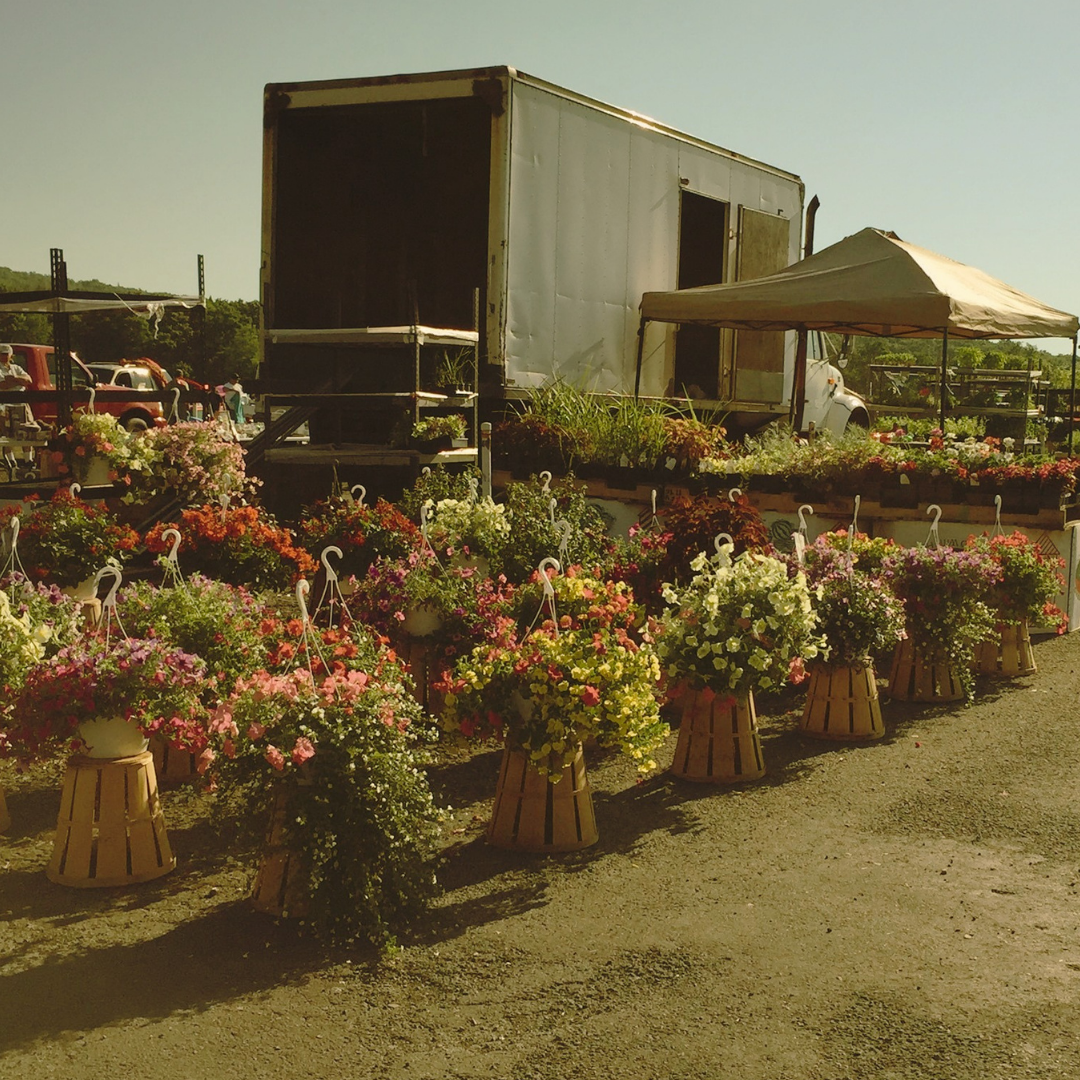 GIANT OUTDOOR FLEA FAIR
EVERY SUNDAY  |  6AM - 2PM
Our outdoor market is the largest flea market and farmers market in Northeastern Pennsylvania (Pocono Region) and the winner of  The Reader's Choice Award for "Best Flea Market".  The Circle's GIANT Flea Fair offers hundreds of vendors to our thousands of attendees every Sunday from March - November (weather pending). 
OPEN EVERY SUNDAY UNTIL NOVEMBER FROM 6 am - 2 pm!!
Vendors may arrive one hour prior to opening (5 AM) for set-up.  We accept new vendors weekly, no preregistration is necessary.
We WILL NOT ask you for your space payment or to reserve your spot in advance. Payments will be made when you arrive onsite at Circle Drive-In for your space fee & selling permit!
Buyers - $1.00 entry fee per car.
*For updates please follow @CircleFleaFair on Facebook & Instagram*
SHOWING FRIDAY, SEPTEMBER 29th, SATURDAY, SEPTEMBER 30th, & SUNDAY, OCTOBER 1st
SCREEN ONE | "PAW Patrol: The Mighty Movie"  |  2023  |  (PG)  |  7:30 pm
SCREEN TWO | "The Nun II"  |  2023  |  (R)  |  8:00 pm
Gates & Box Office open at 6:30 pm this weekend.
*Movie times vary each week and will be updated prior to showings.
You can purchase tickets in advance by clicking the button below. 
2023 Pricing: Adults (13+) $9.00  |  Children (3yrs - 12yrs) $7.00
2 & Under - Free
Screen 1  |  Station 89.3                  Screen 2 | Station 91.1
*For updates please follow @CircleDriveInTheatre on Facebook & Instagram*
SATURDAY, SEPTEMBER 30, 2023    |    12 PM - 5 PM
Enjoy live local country music, local brews, local BBQ & more at Boots & Brews Festival!
GATES OPEN AT 11:00 AM - FESTIVAL BEGINS AT 12:00PM
Live Entertainment from Chris Shrive & Friends.  Shane Fabiani & Lindsay Van Gorden (12pm - 2pm), Mike Elward (2pm - 3pm), Gracie Jane Sinclair (3pm - 4pm), & Chris Shrive (4pm - 5pm).
Get your official Brewery Tasting Card when you arrive & keep track of your favorite brews when you visit Iron Hart Brewing Company, Cooper's Family Brewing, Susquehanna Brewing Company, 2 Dogz & a Guy Brewing, Last Minute Brewing, Jim Thorpe Brewing Co., Hazard's Distillery, Runaway Train Brewing, Wallenpaupack Brewing & Mucciolo Family Wines!
Local BBQ and food include Pittston Popcorn Company, Fondippity, Smash Hut, Lupo Russo, Hog Farm BBQ, Welsh Tea Shoppe, ButcherBobs BBQ, Queen of Tarts, Pickle Monster Hot Sauce & Vidaro's Pizza & Bites.
ONSITE CAMPING IS NOW AVAILABLE FOR THIS EVENT!!
RV & Tents Welcome  |  Single Site - 3 Campers OR Carload Site - 5 Campers  |  Includes Evening Drive-In Movie & Sunday Flea Fair Shopping
Restrooms Available  |  No Showers & Hookups  |  No Outside Alcohol Permitted, Must Purchase Onsite
Please note that you will also need an event ticket if you are purchasing a campsite.   Sites do not include tickets to the event.
We recommend bringing both cash & cards to all of our special events featuring vendors.  Some only accept one form of payment.
An ATM is available on-site inside of the Concession Stand.
CIRCLE OF SCREAMS OPENING WEEKEND - FRIDAY, SEPTEMER 29, 2023
A hospital for the insane, deranged and victims of genetic mutations performed by Dr. Anthony Griffin. This attraction features crawlspaces, cages, and various rooms, tunnels/hallways leading to the estate/woods where even more things that go bump in the night reside. The price you pay for trespassing onto this asylum may just be the ultimate sacrifice…..your soul.
Back for 2023! After a 5 year slumber the "Twizted Acres" hayride is awake and ready to play on your fears. This attraction takes you deep into the forest where our sinister stories come to life and the creatures that lurk have one goal. To make you a part of their spooky tales.
This attraction is suitable for all age groups.
Click on Any Event Flyer for More Information or to Purchase Tickets.
We recommend bringing both cash & cards to all of our special events featuring vendors.  Some only accept one form of payment.
An ATM is available on-site inside of the Concession Stand.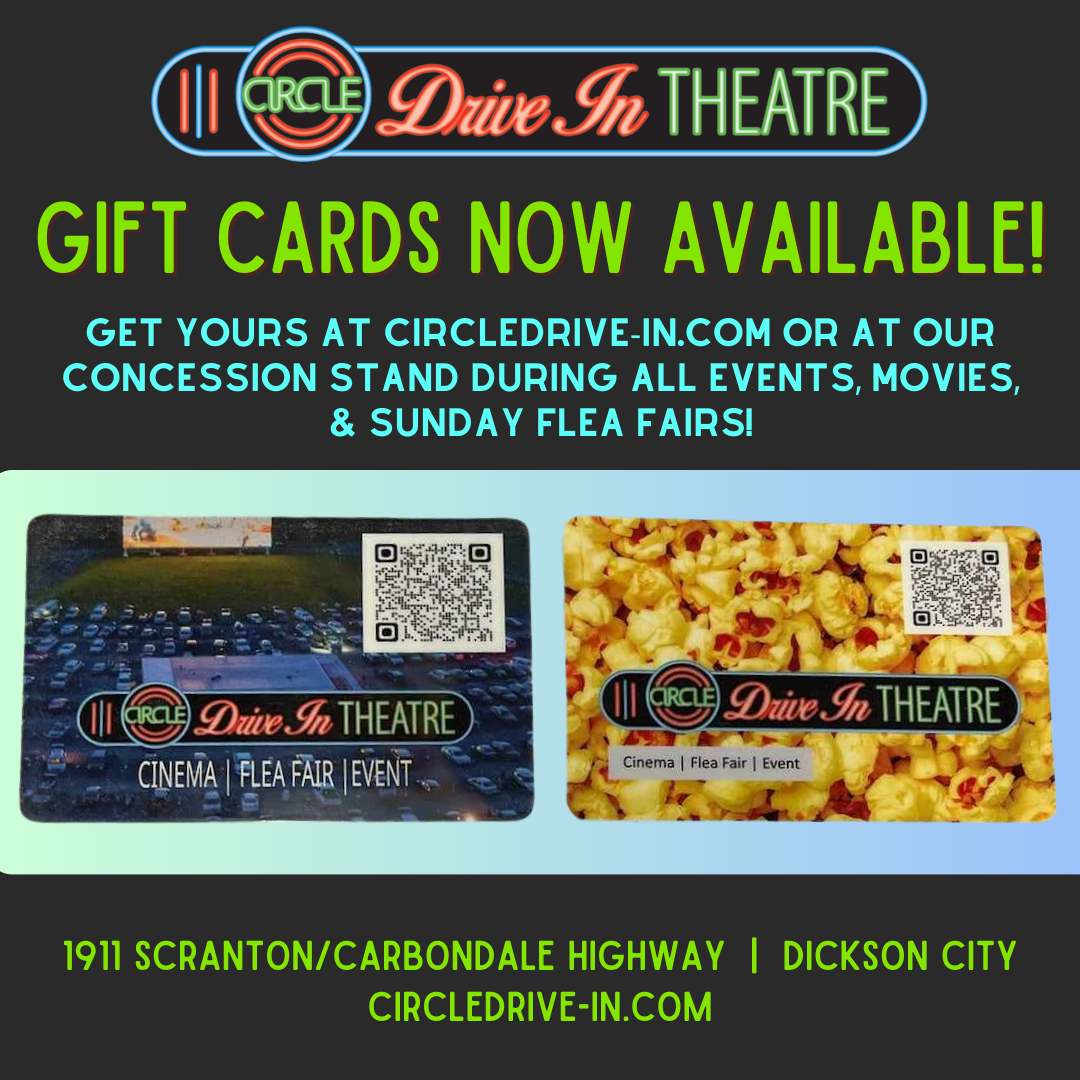 Host your next event at circle drive-in!!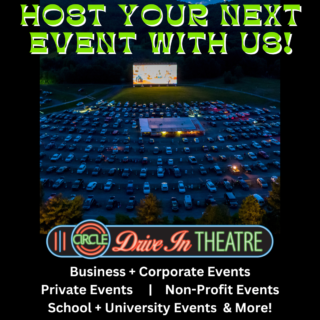 If you have been looking for a unique venue to host your next big event, consider inviting your guests to the Circle Drive-In!
We hosted many businesses, non-profit organizations, high schools, colleges, private organizations, public events & more right here at the Drive-In.
Day, Night, Weekend, & Weekday rentals are now available for the 2023 season.
We will even help you show the perfect film on the biggest screen in NEPA for nighttime events!
You'll have the most unique experience at Circle Drive-In that your guests will be talking about your event for years to come!
2023 concession stand menu
OPEN DURING ALL CIRCLE DRIVE-IN EVENTS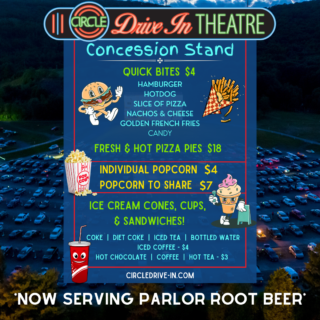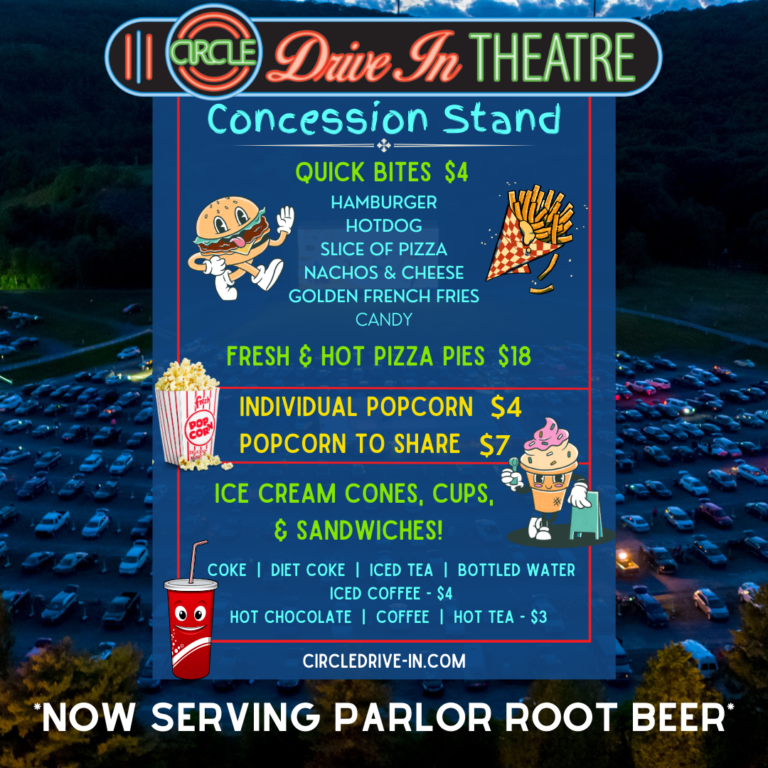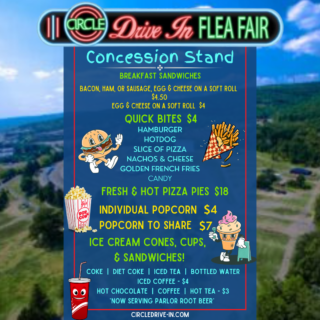 Join the circle drive-in summer team!