SUNDAY GIANT FLEA FAIR | 6AM - 2PM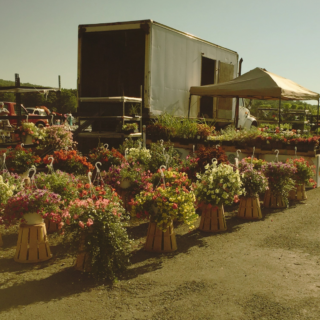 Largest flea market and farmers market in Northeastern Pennsylvania (Pocono Region). 
If you are looking for something to do on a Sundays, why not take a scenic ride and visit the GIANT Flea Fair at the Circle Drive-In Theatre?!  Our vendors sell items such as fresh produce, antiques and collectibles, homemade arts and crafts, new and slightly used apparel, equipment, jewelry, and many, many more items!
Winner of The  Reader's Choice Award for "Best Flea Market", the Circle Flea Fair offers hundreds of vendors to our thousands of attendees every Sunday from March - November (weather permitting).
Be sure to check our website, Facebook, & Instagram pages for updates on our GIANT Flea Fair (weather pending). 
OPEN SUNDAYS UNTIL NOVEMBER FROM 6am - 2pm.
GENERAL fLEA FAIR INFORMATION
Be sure to check our website, Facebook, & Instagram pages for updates on our GIANT Flea Fair (weather pending). 
OPEN SUNDAYS UNTIL NOVEMBER FROM 6am - 2pm.
Weather Permitting
Large Selling Spaces: 18' X 20'
Earlybird Seller Pricing: $25.00 per space, entry from 5 AM - 7 AM
Seller Pricing: $20.00 per space, entry after 7 AM
A selling/vending permit ($5.00) is also required, available at Concession Stand until 10 AM 
Monthly Seller Spaces are available, if you are interested, please contact us at circledrivein@gmail.com. 
We WILL NOT ask you for payment or to reserve your WEEKLY spot in advance. Payments will be made when you arrive onsite at Circle Drive-In for your spot & selling permit! Vendors can arrive anytime after 5 AM on Sundays to set up their spot.
Buyer Admission Pricing: $1.00 per car
We recommend bringing both cash & cards as some vendors only accept one form of payment. An ATM is available on-site inside the Concession Stand.
We will no longer permit dogs or any pets at the Circle Flea Fair.  You will be asked to remove the pet(s) from the property.  Service animals will be permitted. 
FLEA FAIR RULES & REGULATIONS
The following articles may not be sold or exchanged: Firearms of any kind (whether real or replica), components for firearms, ammunition, explosives, and/or any other type of weapon, flammables, unauthorized foods (prepared or otherwise), beverages of any kind, any materials which might be objectionable to family clientele, and petitions of any nature are forbidden. 

Management reserves the right to restrict or prohibit the sale of merchandise as directed by local, county, state, and federal enforcement agencies. 

The Flea Fair management reserves the right at any time to prohibit certain additional items from being sold, swapped, exchanged, or distributed. 

Each selling area is not to exceed the space between two speaker posts and 8 feet in front of the area.  Sellers are not permitted to sell, distribute, or exchange items outside the selling area.  All displays are to be set up as not to constitute a hazard or nuisance to the public. 

Each seller agrees to keep his/her own space clean and shall be responsible for any damage to theater property.  No one is permitted to leave any discarded merchandise, boxes, or cartons on theater grounds.  Up to $300.00 fine. 

No auctioneering.

The use of P.A.systems or bull horns is not permitted. 

Area and theater grounds must be vacated by 2:00 PM.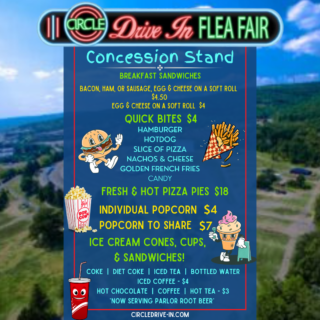 join the circle drive-in summer team!